George Armstrong Weekly Workout 24th April 2022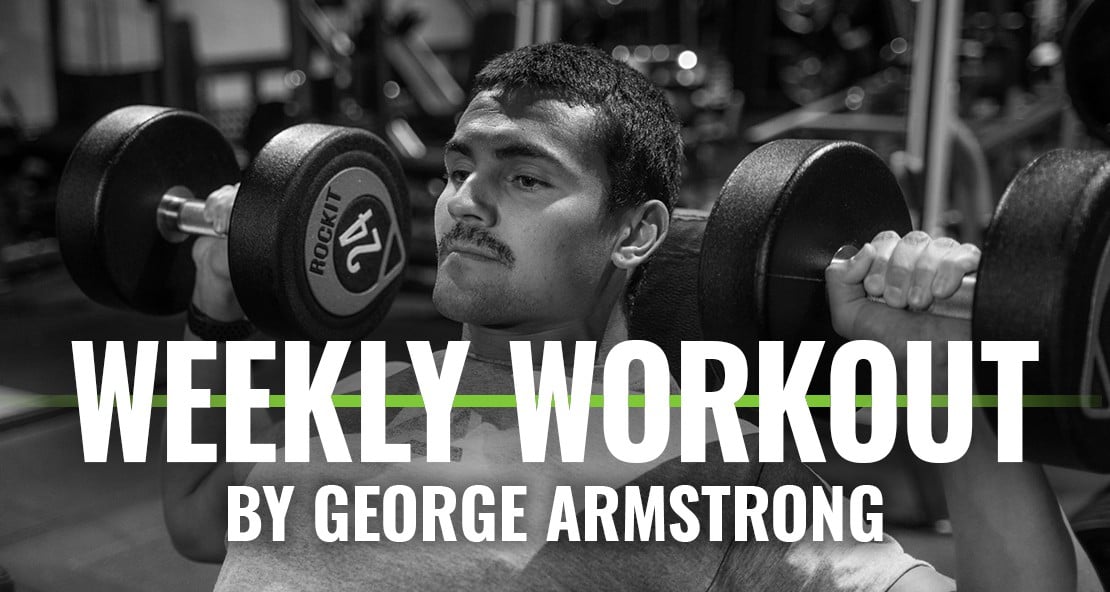 I'm off to Ibiza this week!
My training will be changing up slightly. Over the past few months I took a step back from running frequently allowing my ankle to rest and recover from injuring it in January. Its taken so long to heal but having cryotherapy has worked wonders for inflammation and swelling. Now its finally stronger better way to get back into more running then in the ibiza Sun! Enjoy this week's workouts guys!
WORKOUT 1

Pull - Phase 1
Weighted pull ups - 4 sets max reps.
BB bent over rows - 12,10,8,6,4, 1 x max rep set.
Seated back row machine 12,10,8,6
Ez bar curls 10,10,10 superset with Standing overhead cable curls 15,15,15
Phase 2
Every 2 mins - Perform 10 BB cleans & 12 bar facing burpee's @60-80kg for 20 mins.
WORKOUT 2

Phase 1 - Push 
Flat BB bench press 5,5,5,5,5
BB Seated shoulder press 10,8,6,4
Weighted dips 10,8,6,4
Max push ups 3 rounds.
Phase 2
15M'AMRAP
21-15-9
Assault run 
Toes to bar / GHD 
BB Clean and press 9 (50-70kg)
WORKOUT 3


Phase 1
Barbell back squats 5,5,5,5,5
Barbell stuff leg deadlifts 12,10,8,4
Leg extensions 15 superset with barbell walking lunges 20 reps (10 each leg) x 3 sets.
Phase 2
15M'AMRAP
21-15-9
Wall balls
Assault bike
BB Sumo dead hi pull
WORKOUT 4


Murph Workout
Use a 20kg weighed vest if you have one. I didn't have a weighted vest so I carried 2x10kg dumbbells each arm then 300 squats with a 20kg barbell on my back, followed by a 10kg plate on my back for press ups and then 10kg around my waist for pull ups. If the pull ups are too hard just do them without weight.
-1 mile run (holding 2x10kg dumbbells)
-300 squats (20kg barbell)
-200 press ups (10kg on back)
-100 pull ups (10kg around the waist)
-1 mile run (holding 2x10kg dumbbells)
MY TIME TO BEAT: 41mins
WORKOUT 5


Phase 1
200cal rower 
Every 25cals perform 12 deadlifts @100kg 
5 mins rest 
200cal rower 
Every 25 cals perform 8 pull ups & 12 toes to bar
Phase 2
Ski erg 
20 seconds push-it-to-the-limit
10 seconds rest for 3mins
Rest for 2mins
Repeat x2