George Armstrong Weekly Workout 6th February 2022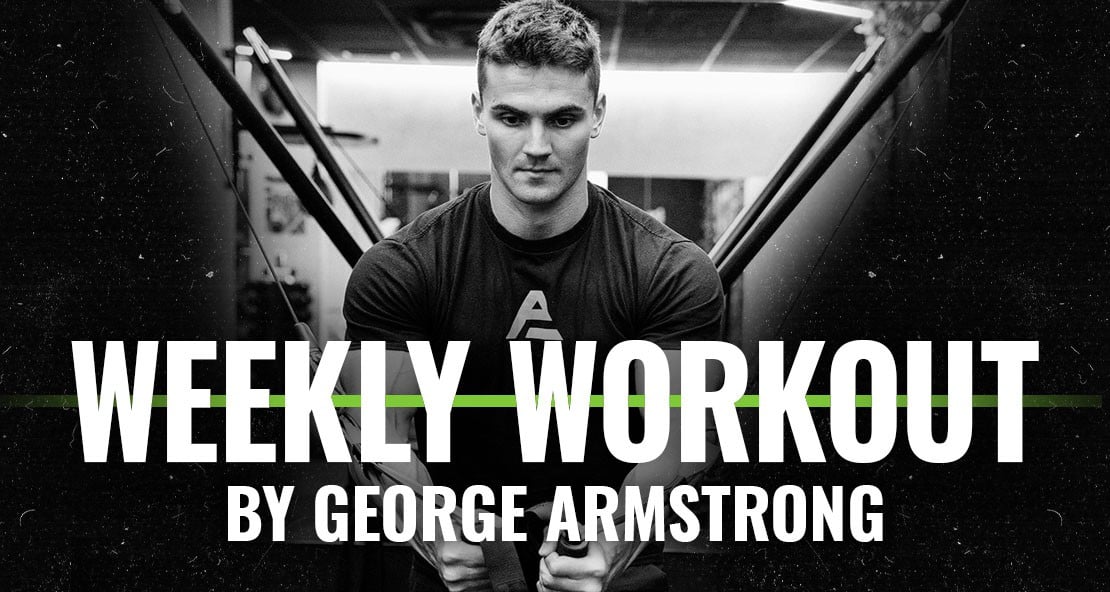 MONDAY

SUICIDAL LEG WORKOUT
Todays workout was rough. Train with caution. The part 3 GIANTSET is one from our new signature program.

Part 1
Barbell 5x5

Part 2
Suicide squats /  4 rounds
Barbell xBW
5 front squats
7 Back squats
60 seconds rest each set.
 
Part 3
Gaint sets / 4 sets  
Leg extensions 15
Goblet squat 15
Bodyweight lunges 20
90second rest between rounds

Part 4
12M'EMOM
1:KB swings 16
2:Plate Burpee 14
3:Assault bike 14


TUESDAY

Push - PHASE 1
Flat BB bench press 10,8,6,(20 drop set)
Push press 10,8,6,(20 drop set)
Incline DB chest press 10,8,6
Front cable raises 15,12,10
Tricep push downs 15,12,10
Dips 3x15

Phase 2
7km Run easy pace.


WEDNESDAY

Pull - Phase 1
BB Deadlifts 10,8,6,4,3,2,1
DB rows 15,12,10,8,30 drop set)
Seated rows 15,12,10,8,30 drop set)
Cable bicep curls 15,12,10,8,30 drop set)
Alternating DB curls 10,8,6,4 each arm

Phase 1
Head to head with a partner.
Complete as fast as possible.
21-15-9
Rower
Burpees
Rest 2 minutes
21-15-9
Toes-to-Bars
Pull ups


THURSDAY
Full body
"YOU GO I GO"
PARTNER WARRIOR WORKOUT

Give this workout a try.
Go as fast as possible with your partner.

Part 1
Assault bike 50 cal
Box over burpee 75
BB push press 75
DB front squats 75
T2B 75
Rest 1 min

Part 2
Assault bike 50cal
Box overs 75
BB OH squat 75
DB clean and press 75
T2B 75
Rest 1 min

Part 3
Assault bike 50 cal
Box jumps 75
BB Thrusters 75
DB Devil press 75
T2B 75

WEIGHT:
20kgDBs
50kg barbell  

Our times
(Part1:16.08min)
(Part2:14.34min)
(Part3:8.02min)


FRIDAY

Phase 1
BB Flat bench press 5x5,1xBW max reps
BB Deadlifts 5x5,1xBW max reps
BB Squats 5x5,1xBW max reps

Phase 2
15M Treadmill workout
"Climb to heaven"
Every minute increase the incline starting from 0 to 15. Every minute up the gradient.
Speed starts and stays on 10mph throughout.