Client of the Month - Cameron Hudson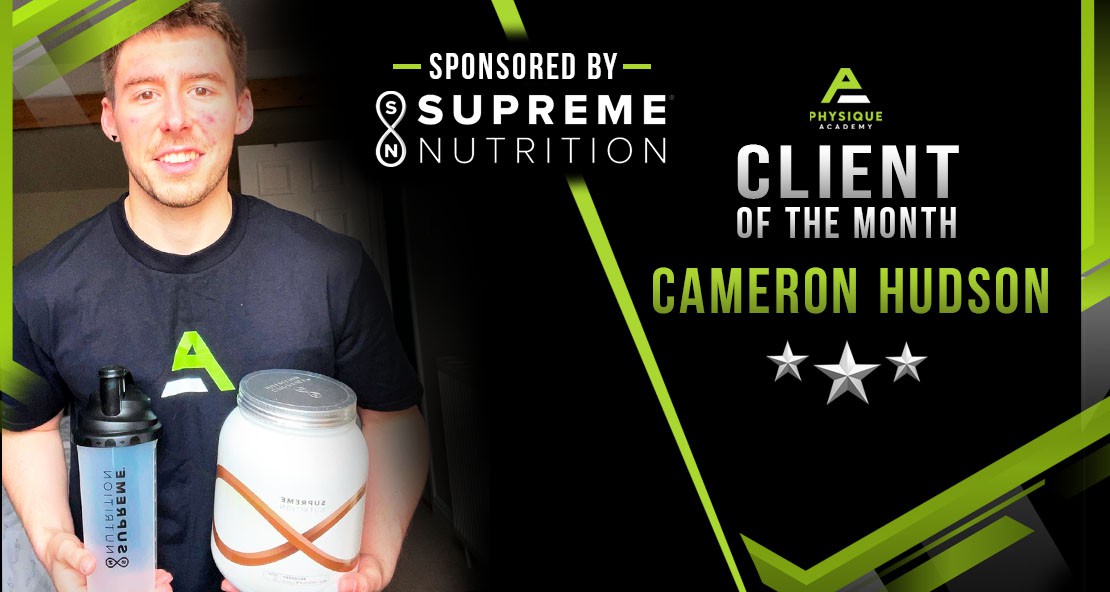 Our May client of the month is Cameron Hudson. Cameron has shown incredible determination after encountering some injury setbacks, he has pushed on both physically and mentally and has made fantastic progress. Showing improvements in both strength and endurance, Cameron has reached training achievements he has never thought possible and finds himself able to push himself further and further each week. Not only has his training improved, but has expressed his mental health and confidence have seen a huge boost and has also seen the improvement of dedication impact his career.
When did you join the Physique Academy?
I initially got in touch in March after looking through the academy page and seeing some of the transformations. Within a few days I had a call with George just to discuss what I was looking for and how Physique Academy could help me. This enabled me to find out it if I was getting involved with the best team for me and I knew straight away I was. Jamie then got in touch within a couple of days with my plan, the turnaround was amazing, and I haven't looked back.
Why did you join Physique Academy?
I decided it was time for a change after not making the most of lockdown, I felt like I had just wasted my time and that wasn't something I was willing to do anymore. I have a holiday booked (fingers crossed we can go) and I want to be the best version of myself so I can enjoy it as much as possible. I initially was going to do this on my own, but I came across the page and the transformations were phenomenal and thought if I'm going to do this, I need to do it properly to get the best results. After my consultation call to discuss what the team could offer, I knew it was the right decision.
What have you achieved both physically and personally since joining the academy?
Since joining the academy my physical health, mental health and confidence have improved massively. Through becoming healthier and gaining the much-needed confidence, I have started running and my times are always improving. This is something I always found an excuse for, but I am now able to push myself further and further as I don't set limitations like I used to. It also helped with my career as the plan is also there to benefit you mentally and get you into the right habits which have led to me pushing myself more at work. Being in sales, a lot of it is about having the right mind set and being relentless, the habits the plan promotes has helped me to do this.
What is your ultimate fitness goal?
I didn't come into the plan with a fitness goal in mind. I'm not obsessed with a certain weight or being able to hit a certain weight on an exercise, but I focus a lot on how I feel and how I look. It is good to see me getting stronger while seeing changes in my body. What I want to achieve from the plan is to have full confidence in my appearance and ability; to learn what I am capable of when I fully push myself and to have no insecurities.
In what other areas of your life has Physique Academy helped you improve?
I have always had a strong mind set however throughout this last year through lockdowns and being furloughed it took a beating. I was not motivated to do anything, whether that be health related or even activities I enjoyed. The habits the plan promote enabled me to find motivation in other areas and allowed me to focus my time on things that are important to me opposed to neglecting those things and it stopped me from being lazy and using excuses.
Would you recommend Physique Academy?
100%, there isn't one single aspect that I could complain about. From the turnaround of getting my plan sorted, to the engagement from each of the team and the diversity of the plan itself, I truly believe everyone could benefit in one way or another with Physique Academy. This is why you see so many amazing different transformations with people achieving different goals.
What gets you motivated to complete the programme to best of your ability?
I'm naturally a competitive person and I see this plan as a competition with myself. So, I always want to be in better condition each week. I don't want to check in with poor results. I also get on really well with my coach Jamie who understands why I am on the plan and so I want to get the best results for the time and effort he puts in. My goal is to feel confident and comfortable in my body and without doing the work this would never happen.
Is there something fitness related you can do now you couldn't do before joining Physique Academy?
I feel like my fitness has improved both my strength and my endurance. I am now able to go on runs and I am happy with the times and distances I can do which is something I wouldn't have tried to do as I would assume I'd get poor results. Each week with each workout I can push myself further and lift heavier weights while losing weight myself. I feel in the best condition of my life. I have no insecurities in the gym whereas before I potentially wouldn't do an exercise due to me being weak or due to inexperience, that's now gone.
How important is a routine for you?
I achieve far more when I am in a routine as it becomes second nature, and I don't even think about it. Throughout lockdown when I had no structure, I found it harder to motivate myself to exercise even though I had all the time in the world. Now I have good habits and I am structured in my diet and exercise I find it far easier even though I am now at work full time.
What has been your highlight of working with Physique Academy?
Each morning when I wake up, I am so happy with the progress I have made and it's a reminder of why I am doing the plan. I love that it is becoming a habit to exercise and to eat the right meals as I feel it will have an impact in the future for me to make better decisions. I also get along with my coach Jamie who makes this whole process so much easier, I know that no matter what I need plan related or not I can get in touch and he will respond in no time. Having someone like that pushing you and guiding you is great but being able to just chat with them makes it that much more enjoyable.
What's next on your fitness journey?
I've still got a long way to go, I am happy where I am at, but I know I can go further. I will be sticking with it for a few more weeks and then it will be time to bulk and build that muscle before my holiday so I'm in the best condition. I have full trust in the team as they will always make the changes to my plan when they are needed. Initially I was just working to my holiday but as I have enjoyed the process so much, I believe I will be involved with the team a lot longer to see how far I can take this.
What's next on your fitness journey?
Continue to push myself daily to make improvements. I've realised that any improvement no matter how small is progress. I feel the alterations I've made since joining the Physique Academy have changed me for life and I now want to see how far I can go and be the best I can be.
"23lbs down in 9 weeks just goes to show how hard Cameron has been working. His work ethic is second to none! Overcoming injuries and setbacks to achieving incredible results. 9 weeks down and we aren't stopping here! Well done Cameron, a Client of The Month truly deserved and a great advocate for Physique Academy" - Jamie Gorse, Physique Academy Online Coach
If Cameron has inspired you to change your lifestyle, book a FREE consultation call with the Physique Academy and let's get started.