Client of the Month - Dan Wright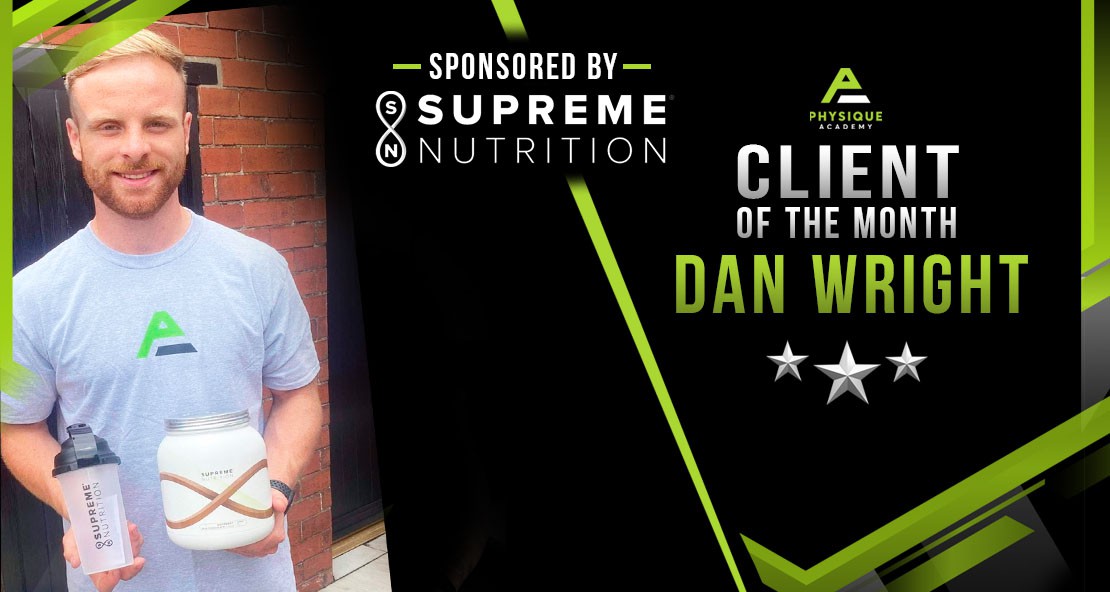 Congratulations to our latest Client of the Month, Dan Wright. Dan reached out to us back in February and has gone through an incredible journey of self-realisation and belief. We are 16 weeks in, 44lbs down and are now pushing towards the maintenance phase in his training. Dan has pushed himself extremely hard throughout his program and deserves every bit of recognition. Keep it up!
When did you join physique academy?
My first check in with physique academy was on 15/02/21.
Why did you join physique academy?
I joined physique academy after a brief cut that saw me lose one stone on my own then I realised it can be done and gave me a little confidence boost which then I reached out for professional help with someone who achieves amazing results like George and the team at Physique academy.
What have you achieved physically and mentally since joining physique academy?
Since joining physique academy not only have I lost 44lbs in weight since I was at my heaviest I have also grown in confidence and my mental state has improved ten fold. I am a much happier person day to day who has increased energy levels and found a new burning desire to make changes to my lifestyle to meet the goals I have for my own health and fitness.
What is your ultimate fitness goal?
My long-term goal for fitness is to be a strong athletic rugby player who enjoys training both in the gym and on the field. Someone who can maintain an athletic build with high fitness levels and enjoy my own social life with friends and family. Have confidence in my own physique and be happy where I am.
Would you recommend physique academy?
I have already recommended physique academy to many friends who have questioned where/how I went about my weight loss phase. I could not recommend the team enough and the factors they take into consideration when writing your plan etc as they understand not everyone is the same.
What gets you motivated to complete your programme to the best of your ability?
Seeing the transformations on the page and the amount of dedication George and the team show you during your plan keeps me motivated to make progress and finish the plan strongly.
Is there something fitness related you can do now because of physique academy?
I can now run outdoors with confidence knowing that I can definitely finish the run and I can certainly run a lot longer distances. My 5k time has improved drastically also before joining physique academy I would never of dreamt of running further than 2/3 miles but I can comfortably run 8/9 miles and also do it with a good time to match.
How important is a routine for you?
I think routine is important for anyone. But for myself it's especially important for me knowing what I have/when I have it so you can prepare yourself. I've found as long as I have everything prepared and I know my routine you can't go far wrong if sticking to the programme.
What has been the highlight of your physique academy programme?
When I reached the end of phase 1 and realised the amount of work that had been put in to get me to where i am and George saying we're done with cutting fat It felt like such a relief and a sense of accomplishment.
What is your your next fitness adventure?
I think I'm going to get to the end of Phase 2 where I am at a point with my Physique where I am happy with weight and how I look to then move onto more functional training for sports focused on rugby.
"Dan's Confidence was at rock bottom. He wanted his life back and a huge lifestyle change. He was at his worst. It was breaking point. It was now or never.

He plucked up the courage and asked for help. Reached out, took a shot and never looked back.

This is all the motivation I need to keep grinding. Seeing this type of transformation gets me fired up. Working on yourself is hard. You could have best diet/training program or coach but if you ain't ready to leave the old you behind then you'll never let go of the past." - George Armstrong, Physique Academy Online Coach.
If Dan has inspired you to change your lifestyle, book a FREE consultation call with the Physique Academy and let's get started.