Client of the Month - Josh Sharma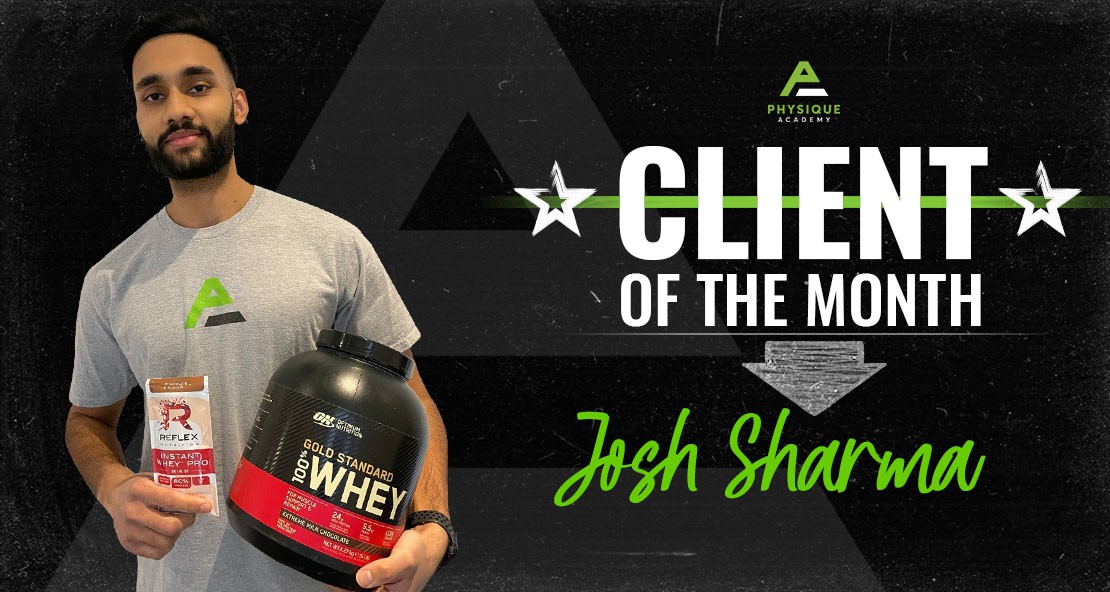 Congratulations to our latest CLIENT OF THE MONTH! Each month we reward one of our clients in acknowledgement of their dedication, accountability, consistency, and their transformation. Josh joined Physique Academy with a number of fitness goals, one was to run a 5K without stopping. Within 3 months of joining the academy, and working with coach Harry Armstrong, Josh now runs a comfortable 5K in less than 25 minutes. He has now ran a half marathon in under 2 hours after just 4 months training with the team. His confidence has sky rocketed and now strives in other aspects of life.
I joined Physique Academy around mid-October as I can remember.
Why did you join Physique Academy?
I had joined Physique Academy the very last week of August 2021.
Why did you join Physique Academy?
I joined physique academy as they not only had a large number of transformations, but they came across as a team who would help you transform physically but also mentally, bettering all aspects of your life. Reading a lot of the client testimonials I had read numerous times the positive impact the team and the journey had not only physically but mentally as well, pushing clients to their full potential. This for me was key in me joining Physique. I would say I was stuck in a cycle of wanting to change, attempting to change, not seeing results, and then giving up, my all-round confidence was at an all-time low, I would avoid putting myself in uncomfortable situations. To me building physically and mentally go hand in hand and enable you to be your best self, which is what I wanted to strive towards, it was time for change, and I knew physique academy was the right fit for me especially after having my initial call with Harry. He explained the process and what it involved and from the call I could understand and get a feel for his passion and getting his clients the best results, this is when I knew I was making the right choice, and i have not regretted it since! I remember the call like it was yesterday, it was just before the bank holiday weekend and I mentioned to Harry I wanted to ideally start my journey on the bank holiday Monday, he had a camping trip the bank holiday weekend, yet he still found the time to send me my plan, that was when I knew Harry was giving his 100% on his side, and it was time for me to do the same!
What were your initial fitness goals when starting with Physique Academy?
My initial goals were simply to get into a better shape, lose some belly fat and work towards having a flatter stomach. In all honesty I wasn't sure what I was capable of achieving physically. I just knew I wanted to progress, and I was in the right place for that.
What have you achieved both physically and personally since joining the academy?
The achievements are beyond what I could've imagined! Physically, I did not ever think I would be able to achieve the shape I have. A more defined yet built look was something which I would've dreamed off, and yet within 6 months of joining Physique Academy my Coach Harry guided me on this journey to getting that. This for me personally has improved my self-confidence and as a result my overall well-being. Truly life changing! Looking back at pictures of the 'old me,' and seeing how much change there has been, leaves me speechless. Personally, I am much more confident and happier. Prior to starting my journey, I lacked body confidence and found this held me back in all aspects of life and stopped me from progressing to the person I know I am capable of being.
What is your ultimate fitness goal?
That's a tricky question, the reason being, throughout my time with Physique Academy I have been constantly evolving physically and mentally, and with that my goals have been evolving. In all honesty my ultimate fitness goal would be able to have a healthy physique where I can perform in both weights based but also cardio/ conditioning based exercises, a hybrid approach. Which is what is great about working with Harry.
Would you recommend Physique Academy?
100%. I've had no regrets joining Physique and I can't thank Harry and the whole team enough for making the journey so far such an enjoyable and life changing experience!
What gets you motivated to compete the programme to the best of your ability?
The results. Knowing that in such a short period of time I've managed to prove myself wrong about what I've been telling myself all these years about my physique and just accepting it for what it is. To see life changing results in such a short period of time shows that anything is possible. On my journey with physique and Harry my physical growth has been complimented with my mental growth. Off course there're days when you lack motivation or would rather just have an extra hour sleep, but in those times, I look at my initial pictures that I sent through to Harry, see those changes, and know I'm working towards a better me, that's what motivates me, but also knowing Harry is giving his 100% on his side motivates me to give my 100%. I feel it can be easy to want to see results without wanting to put the work in, but if you put the work in the results will come, that's another part of what makes me motivated.
In what other areas of your life has Physique Academy helped you improve?
Physique Academy has massively improved my mental wellbeing. Physically I am much more confident and for me this goes hand in hand with my mental wellbeing. I am not afraid to push myself out my comfort zone now, I will put myself in situations where I can grow and better myself, something that I would shy away from in the past because I wasn't confident in how I looked, and mentally this was holding me back. In all honesty, both physique and Harry have improved all aspects of my life, there's only one small downside, get ready to have to purchase a new wardrobe!
Is there something fitness related you can do now you couldn't do before joining Physique Academy?
Where do I begin! Harry has been amazing; he has set me goals which I would never have thought I would be able to achieve. For instance, prior to joining Physique Academy I would shy away from cardio, I could barely run a couple of kilometres without having to stop. On my journey with Harry, we set goals, my first one was to be able to run a 5k without stopping and then when we achieved that, it was to do a sub 30mins, now I can comfortably do sub 25mins, and this is within 3 months of joining the academy! I then managed to run a half marathon sub 2hours, again within 4 months of joining the academy. If at the start of the journey you were to say to me this is what you'll be able to achieve in 3-4months I wouldn't have believed you, the only way I can describe it, is that I'm a new me!
How important is routine for you?
Massively important. I like to train early morning when it's quiet, but for me it sets me up for the day nicely, it allows me to start the day on a positive note, and not have to worry about hitting a workout after work, allowing me to spend time with family and friends in the evening. Without routine I personally find it difficult to get the daily checklists done, but a routine also allows me to manage and create time for the important things.
What has been your highlight of working with Physique Academy?
The whole journey so far has been a pleasure! The reason I say journey is because throughout this whole process so far, I truly feel like i haven't just been working with Physique Academy and Harry but we've been on a journey and this is only the beginning.
I have not regretted joining at all. I've been able to achieve so much both physically and mentally that I never thought I was capable off. Harry gave me that support, knowledge, and guidance to be able to achieve the impossible. Years of bad habits, years of telling myself this is how Im going to look for the rest of my life, simply unravelled in 6 months, is something which I am truly so grateful for. Don't get me wrong, it has been difficult, it is not easy, both physically and mentally it is a challenge, but that's the best part. You grow when you're not in your comfort zone, you see that change. When this happens your goals keep changing and you keep improving and thats exactly what I found, and Harry would keep supporting me and pushing me to go further and unlock that potential. As I progressed each month throughout the journey so far, I was bettering myself in all areas of my life, there's no better feeling, especially when looking at the initial pictures at the start of the journey to see how far you have come and what you are capable of achieving with the support from your coach, the whole team and also other clients is amazing. I feel like when joining Physique Academy, you're not just signing up, you're joining a community. A community of like-minded individuals who all support each other and strive for everyone to be their best.
What's next on your fitness journey?
What's next on my fitness journey is to add some good quality muscle/ size whilst also developing my endurance and stamina through conditioning workouts, working towards my 'ultimate fitness goal.'
If Josh has inspired you to change your lifesTyronle, book a FREE consultation call with the Physique Academy and let's get started.