Client of the Month - Lewis Frost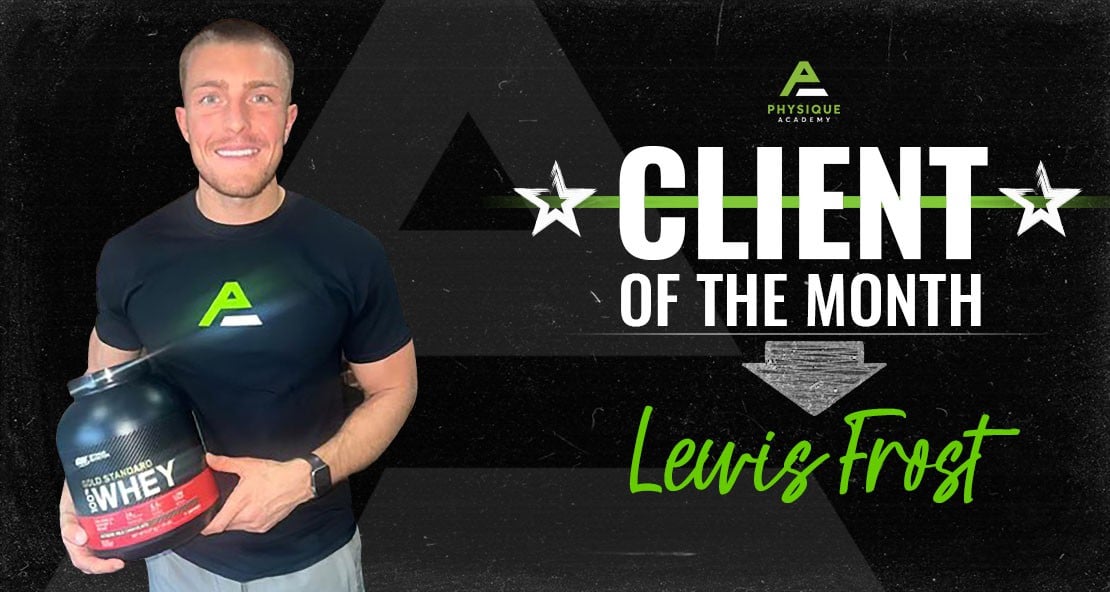 Congratulations to our latest Client of the Month award winner. Lewis has been with the program 6 months and has completely turned his physique into peak condition. With the ambition to have the fitness levels of an athlete and start more functional training, we designed the perfect training plan that would help build muscle growth, stamina and strength, aligned with a nutrition principle that would reduce fat and maintain muscle. It's safe to say that Lewis has been dedicated to the cause, set his sights on his goal, and stayed true and consistent with his plan. Well done Lewis, a worthy award winner.
Why did you join Physique Academy?
I joined the academy 6 months ago.
Why did you join Physique Academy?
I wanted to get into functional training, get shredded for summer and I have been watching George's profile for a while, so I decided to reach out and get the guidance I needed. 
What have you achieved both physically and personally since joining the academy?
I have achieved a better physique and knowledge about training and diet. I have also improved my mindset with this program.
What is your ultimate fitness goal?
To have the fitness levels of an athlete.
In what other areas of your life has Physique Academy helped you improve?
Mindset for business. This program has made me more dedicated and focused in other areas of my lifestyle, not just training.
Would you recommend Physique Academy?
Yes 100%. Working with the academy has truly changed my perception towards training and has taught me everything I need to know about becoming a better athlete.
What gets you motivated to complete the programme to best of your ability?
To be the best version of myself.
Is there something fitness related you can do now you couldn't do before joining Physique Academy?
I am all round fitter, faster and stronger which is what I set out to achieve. I am now on my way to completing phase 2 of the program.
How important is a routine for you?
Extremely important. Routine is what helped me stay consistent and dedicated.
What has been your highlight of working with Physique Academy?
Working 1-1 with George and building a relationship with him and gaining heaps of knowledge from him.
What's next on your fitness journey?
To stay lean and out on 2kg of muscle.
If Lewis has inspired you to change your lifesTyronle, book a FREE consultation call with the Physique Academy and let's get started.