Client of the Month - Tom Molloy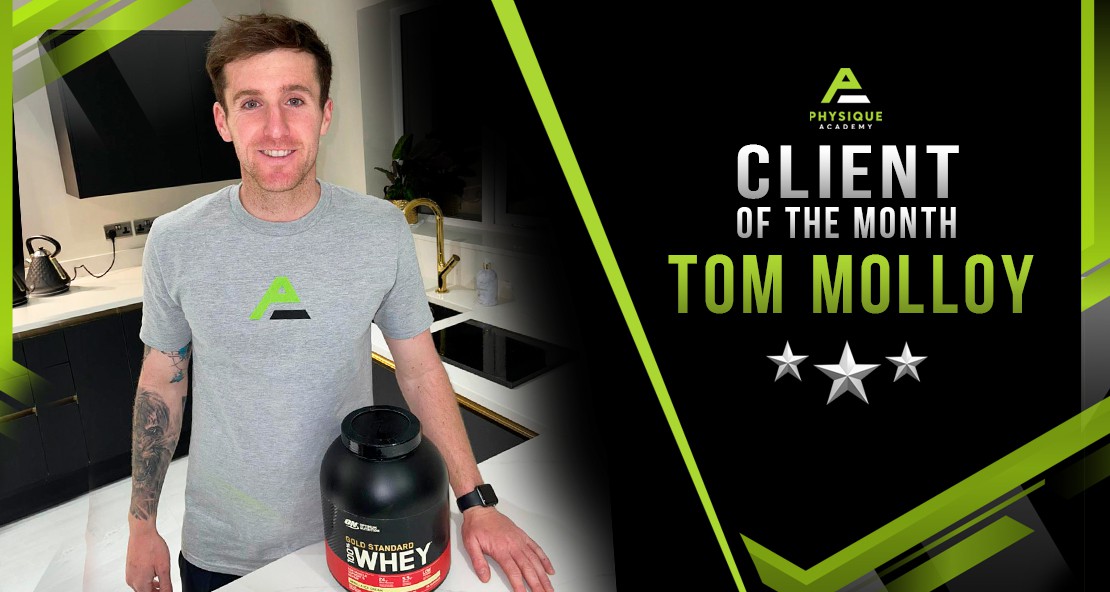 Physique Academy would like to introduce our client of the month feature. This allows us to shine a light on specific clients who have shown incredible levels of dedication to their nutrition and have taken their training to the next level. This month we would like to congratulate Tom Molly who's a well-deserved recipient of some Physique Academy merchandise and a tub of Optimum Nutrition Gold Standard Whey Protein.
Tom has been with the academy for 3 months and has proved himself to be a consistent client devoted to achieving his fitness goals.
We spoke to our client of the month to find out a bit more about him and his time with Physique Academy
When did you join the academy?
I joined the academy back in December, 2 weeks before Christmas.
Why did you join the academy?   
I wanted to follow a consistent plan and to get muscle definition, rather than go it alone.
What have you achieved both physically and personally since joining the academy?
Since joining the academy it's safe to say that I'm the fittest I've ever felt. I wanted to achieve muscle definition and I have never had the muscle definition I've got now, never seen my abs till now. I'm proud to say that I have also been consistent in my nutrition for 3 months… reverse dieting is the way forward.
What's your ultimate fitness goal/achievement?
Compete in CrossFit comps
Has physique academy helped you in other areas? 
Helped me stay on track throughout Christmas, covid and lockdown
Would you recommend physique academy?
100%! I was always a sceptic on online coaching not going to lie, but being held accountable every week has kept me on track.
Keep an eye out for our next client of the month, could it be you?
If Tom has inspired you to change your lifestyle, book a FREE consultation call with the Physique Academy and let's get started.